Seamless Gutters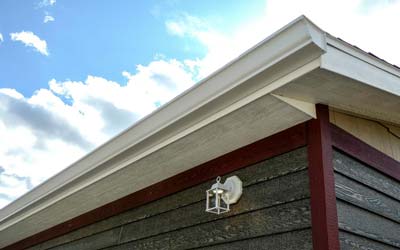 A properly working gutter system is important for each home to have. It prevents water from damaging your basement, foundation and yard.
Our seamless gutters are only formed from coils of .032 gauge aluminum. The material is incredibly durable and significantly stronger than its .027 counterpart.
Aluminum is a great material choice for several reasons:
The gutter lengths are run out of our machine right on the job site. Installation typically goes very quickly, but exact times will vary depending on the size and complexity of each job.
We readily provide 2 gutter profiles: a 5" K-style gutter for most residential applications, and a 6" K-style gutter for most larger scale commercial applications.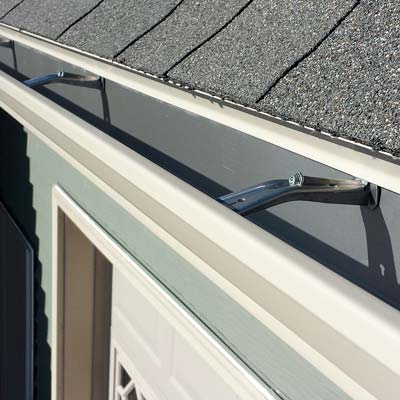 Hangers
There are a variety of hangers to install gutters with. We always use Hangfast hangers from Raytec Manufacturing. The design and material make them incredibly strong. Using a higher quality hanger means they are more expensive, but they are also more durable and handle extreme temperatures better than anything we've seen. The design also allows for quicker install time which cuts down on labor costs.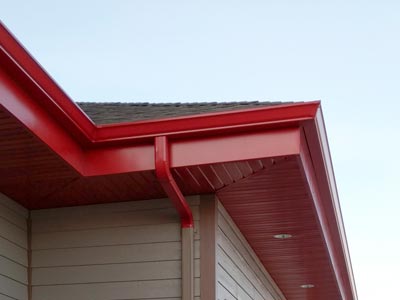 Miters
Why do we run seamless gutters? Well, they certainly look nicer. But more importantly, having seams will ultimately lead to leaks over time. Simply stated, fewer seams means fewer problems.
Unfortunately, many homes will require one or more mitered corners. This is why we use strip miters instead of box miters. Box miters leave two seams per corner, where strip miters only leave one.
---
Downspouts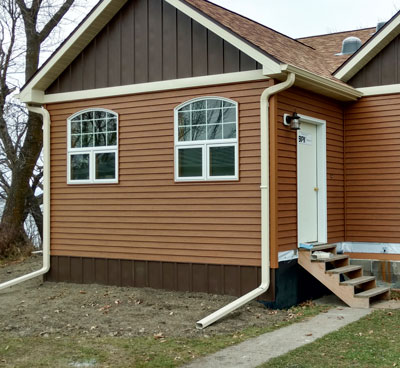 The gutters ability to effectively move water is dependant on several factors. Two big ones are the length of gutter and the size of the roof. Too much water too quickly will be hard for the old standard 2x3" diameter downspout to handle. They can also clog with debris more easily.
To help avoid such problems, we typically encourage the use of 3x3" or 3x4" downspouts. The use of 3x4" downspouts has become common on residential homes for their durability and exceptional water moving capacity. The 3x4" and 4x5" downspouts are made of a heavier gauge aluminum. This material better resists denting, tearing and seam expansion in the winter months.
Be sure to ask about our flip-up extenstions. These extensions can be easily tucked out of the way when mowing the grass and put back down when finished. They also are more secure on windy days.
---
Gutter Cleaning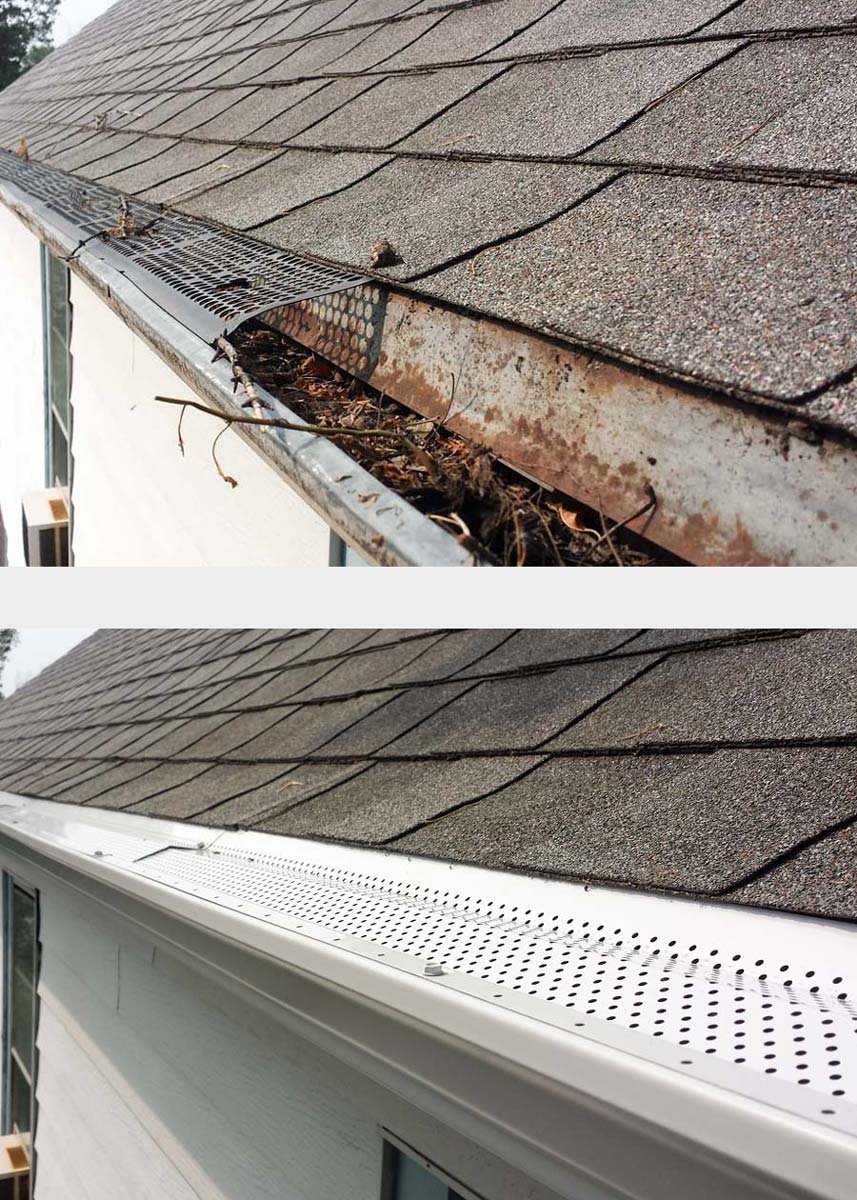 Another big reason that a gutter might not effectively be moving water is a buiid up of debris. Leaves, sticks and other debris finds its way into gutters and slows water flow. Often, the debris will clog downspouts and render the gutters useless.
To keep gutters working properly, it is important clean them. We recommend once or twice a year depending on the conditions surrounding the gutters. Considering that cleaning gutters can be unpleasant and sometimes dangerous, let us take care of it for you.
---
Gutter Covers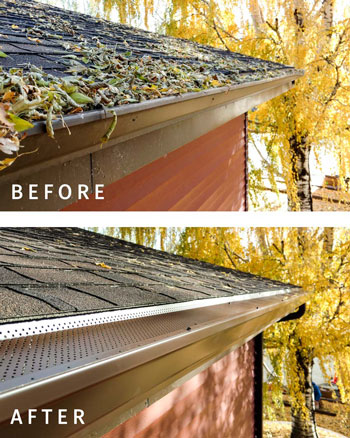 If cleaning clogged gutters isn't your thing, then avoid it for good by having gutter screens installed.
We typically use Real Gutter Cover by Raytec Manufacturing. The shape is designed to prevent water from splashing over during heavy rainfall, while keeping your gutter debris and clog free for life.
---
Soffit & Fascia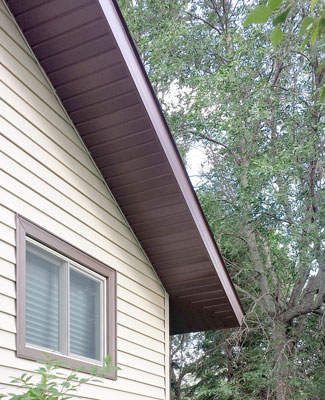 Looking to dress up your home while protecting it from the elements? We also install soffit and fascia metal both on remodel jobs and new construction.
Water rots away wood on the fascia boards and can track down the walls causing further damage to wood and concrete foundations. Installing steel and aluminum soffit and fascia is a great way to keep water out and protect your home. There are many color options available to ensure your home looks exactly how you want it.
---
Sheet Metal
As with soffit and fascia, it is important to protect trim work on windows and doors. Allow us to custom fabricate your door and window trim with our brake machine for added water protection.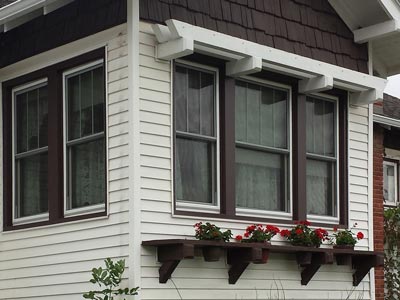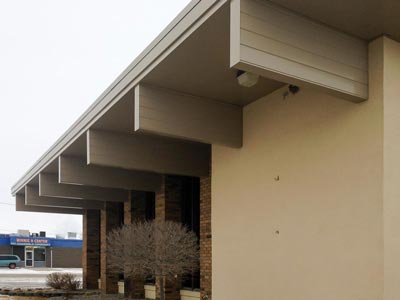 ---
Metal Roofing
Although we spend most of our time with seamless gutters and trim metal, we are proficient installers of metal roof systems.